Here we spotlight our customers' track stories. Please submit yours to info@clewett.com.
---
October 2009: From Patricio C. of Chile

Hi Richard,

Today we dyno'd the car and my customer is happy with the results. It's the highest horsepower N/A 3.2 Porsche (older Model) in the country (Chile). Here's a video of the car on the dyno: You Tube video

Thank you for all your help.

Patricio
This engine has TEC-3r engine management, PMO throttle body kit, our newley updated 2.0-3.3 serpentine fan belt kit and many other goodies.
---
September 2006: From James Spurling of Ridgecrest, California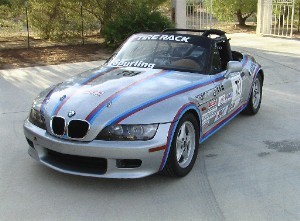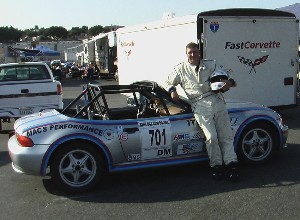 Richard,

After my first race weekend at Laguna Seca in a real race car, I still have a car to drive next weekend!

On Saturday basically I stayed in the same position; none gained and none lost. After qualifying at a lousy 1:50.3, I had a better best lap time than the car ahead of me with 1:48.175. The shocks were a little too stiff. So I turned the bounce setting down for the Sunday race.

On Sunday I know that I was hitting the apexes better. I qualified much better with a best lap of 1:47.414. On the second lap of the race I skidded off in the entry to lap 9 and into the gravel trap. I steered into the skid, but only enough to stop the rotation. When the car settled down, I was still moving downhill; so I kept the car moving toward the track. I got out of the gravel, but the damage was done. I had flat spotted the tires. After that I wasn't able to keep race speed. So I pulled in after only 3 laps for a DNF for my second race. Well, the car's still in one piece and with a change of tires I'll be ready for Willow Springs this weekend.

I'd like to thank Kevin MacDonald and Dan Pacheco for getting the car ready and track support, Richard Clewett for his expertise at motor tuning, Mike Haddad for the Dyno time, and Rick Kirchner for his encouragement on the grid. It was a fun weekend. I felt that I learned how to go faster all weekend long.

James
---
July 2006: From David Bunch of Northern California



Richard,

Just had Deven at Hi-Tec Auto in San Rafael, Ca. install a new Dual-plug system in my car a couple of weeks ago. It replaced an old model HPV-1 from Electromotive. Ran the Porsche at Buttonwillow PCA Time Trial that weekend and just returned from a weekend at Atwater autocrossing with American AX group. The Porsche ran great all weekend.

David
---
June 2006: From Jeff Lahurd
Hi Richard,

I just wanted to let you know how impressed I am with the build quality of the Clewett spark plug wires that I received!!! They are ALMOST too pretty to use! The fit and finish is first rate. I'm using them in conjunction with an Electromotive XDi twin plug ignition kit for my 1987 Porsche 930. I've had Magnecors before, but I prefer these. They seem to have a better fit (a positive "click") on the plug end than my Magnecors did. I'll also mention how beautifully machined the crank pulley and mag sensor bracket are!!! Many thanks for supporting these cars with such high quality parts and service!!!!
Jeff Lahurd
---
February 2005: From William Schenker of Southern California:






Hey Richard,

Just wanted to share my excitement with you. Had an AX in San Diego Sunday. I race in an index class there. Basically, there's a nationally developed index called "PAX" (I have no idea what it stands for) where they've pretty well figured out how one car/class would do against another (it presumes the best driver in the country racing the best prepped car in that class).

Anyway, this PAX class in S.D. is where the best drivers compete. A rough counting of Sunday's field of 17 (out of 204 all together) had 5 National champs (some multiple), 5-7 more Nationals trophy winners, and included the not-so-arguably #1 or #2 driver in SoCal, Tom Berry, who finished 2nd on Sunday; I finished 1st! The field was tightly bunched behind me (as it always is) but I was 0.6 sec. clear of the field (on a 58 sec. course).

Thanks again for all the help (the throttle cable works great now!) in making the car run!

-- Bill
---
From Bryan Doughty, Anchorage, Alaska
Rick,

The Nissan worked fine. I modified your starting MAP slightly in the beginning, did three data logging runs down the street (literally) and raced it. Two slight changes at the track and no one in class could touch it. It made much more power across the range and a lot more down lower than ever before. Had an obnoxious hesitation at 5000 after floating the throttle into/thru a corner and then getting back on it hard. Other than that, it used less than half the fuel it used before and ran better than ever before. Looking forward to dialing it in this Summer.

Thanks greatly for the help. This performance may entice others to go this way, more business for you and me.

-- Bryan

We send our condolences to Bryan's family and friends in his passing. I'm sure St Peter will enjoy working with Bryan as much as we did.

From Mark Graham, Anchorage, Alaska
Richard,

These are the cars that Bryan Doughty and I have been working on for years. It has a 1.8 liter turbo charged VW water-cooled 16valve engine with TEC-3. The 510 is still running great.

Mark